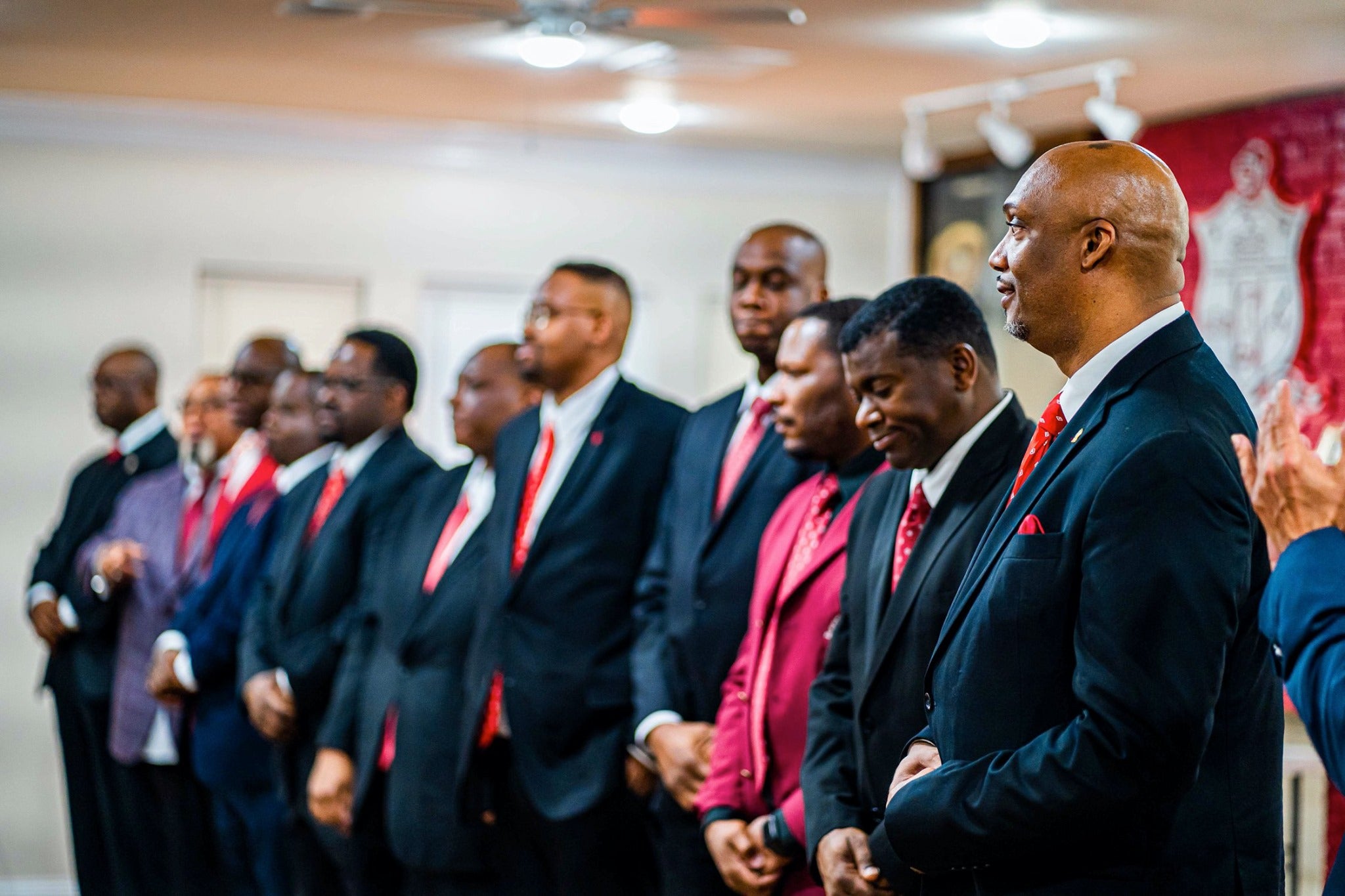 In 2017 Brother Christopher Butler and Brother Kendall Smith, both Eta Phi initiates, conceived the idea that a chapter of Kappa Alpha Psi Fraternity should be chartered in east of Lake Ray Hubbard. They began the involved process of contacting interested KAPPAMEN from their home chapter and Kappa brothers they knew personally throughout the Dallas-Fort Worth metroplex to determine interest in making a 7th metroplex chapter.  Both brothers understood the lack of coverage in the eastern portion of the metroplex and sought to create a chapter that would both support the communities east of Lake Ray Hubbard but wanted support brothers that had no way to become re-engaged with our grand clan. In 2018…twenty brothers filed a petition for a charter and a decree for the establishment of a chapter in Greenville, Texas.  The charter was issued March 14, 2020 just ahead of the Coronavirus pandemic. 
Those twenty brothers were:
Christopher Butler (Eta Phi 1993) -

POLEMARCH

Kendall Smith (Eta Phi 1993) -

VICE POLEMARCH

Demard "Jack" Duffie (Eta Phi 2006) -

KEEPER OF RECORD

Andre Polk (Eta Phi 2001) -

KEEPER OF EXCHEQUER

 

Trevor Adams (Montgomery(AL) Alumni 2000)

Christopher Bayson (Eta Phi 1993)

Paul Bland (Eta Phi 1981)

Christopher Bivens (Eta Phi 1981)

Addaryl Brown (Dallas(TX) Alumni 2017)

Bruce Chester (Eta Phi 1981)

LV Dyer Jr. (Eta Phi 1991)

Dr. Tajh Eldridge (Eta Phi 1993)

Dr. Stephen Foster (Beta Gamma 1996)

Cedrick Matthews (Eta Phi 2001)

Dayton McClendon Eta Phi 1993)

Willie McCowan (Eta Phi 2000)

Vernon Ridley (Delta 1982)

Kevin Ross (Eta Phi 1981)

Michael Williams (Eta Phi 1989)

Cedrick Young (Iota Delta 1996)
The initial drive and bold efforts of these men resulted in the granting of a charter to the COMMERCE-GREENVILLE ALUMNI CHAPTER of KAPPA ALPHA PSI FRATERNITY on March 14, 2020 after the numerous visits, the countless communications, and the completion of the various forms requested by the fraternity headquarters in Philadelphia.  We were granted our charter, January 5th, 2020 at the Founders' Day Grand Board meeting held in Las Vegas.
The first financial member chapter roster included along with our charter members the following names:
Freddie Knight

Rodney Chadwick

Christopher Rayson

Robert Weisner
The fledgling chapter went on to elect the following brothers into office: Name Office Christopher Butler as Polemarch, Kendall Smith as Vice Polemarch, Demard (Jack) Duffie as the Keeper of Records, and Andre Polk as Keeper of Exchequer. The first official meeting of the chapter was held at the Dallas Alumni fraternity house. Due to the COVID-19, the Commerce Alumni Center was closed to all visitors.  Subsequent meetings were held virtually the first 14 months of the chapter's existence. Later, meetings have been held at the Caruth Ridge Clubhouse located in Rockwall, Texas. 
Immediately after it was chartered, the chapter began is community involvement. During its first two years, the chapter actively engaged with the Hunt County Food Pantry, the Hunt County elections administrator to be deputized and Wreaths Across America.
During its' 20 months of existence, the chapter has participated in various programs for fun, recreation, education, and/or profit. Among these programs have been:
Texas A&M University-Commerce Homecoming Park Jam

Hotdogs with the Nupes

Diamonds and Daiquiris

Thanksgiving Turkey Dinners 

Volunteer events with the Eta Phi Chapter

Hunt County Voters' Registration Drive

Hunt County Meal Assistance

St. Jude fundraiser

Commerce Food Pantry Donation Assistance Program
Today the Commerce-Greenville Alumni Chapter of Kappa Alpha Psi Fraternity, Inc. remains dedicated to the multiple communities that they serve and the re-engagement of brothers throughout the country.  Our mantra remains strong, "No Brother Left Behind".